This page is designed to tell you which products you require,
advise on quantities and answer any other questions you might
have to make the ordering process as straightforward as possible.
UK Helix stock a range of DIY screw piles in different lengths to suit various projects. These lengths are 0.7m, 1.2 m & 1.7m.
All DIY piles have the same helix diameter of 150mm.
In addition, we offer extensions and a range of brackets to suit whatever will be fixed to the top of the screw pile.
Which Size DIY Pile Do I Require?
To reach the correct conclusion for your project, you should consider two important questions.
1. What is your soil type?
…hard clay, soft clay, chalk or silt..
– If you have hard ground, you can use 1.2m.
– If you have soft ground you should use 1.7m , you may even require 1m extensions (which can be cut if needed).
Please keep in mind these examples are only intended to serve as a guide and we strongly recommend gaining a solid unnderstanding of your soil conditions beyond a depth of 1m before choosing pile.
2. What is the load of the structure?
– 0.7m piles may suffice for a light decking or flag pole.
– 1.2m piles will suffice for a shed or garden room/office.
– 1.7m are required rooms with a higher load like a gym or workshop.
Please keep in mind these examples are only intended to serve as a guide and we recommend calculating the load of your structure before choosing pile.
How Many Screw Piles Do I Need?
If you're using 2×5 timbers the span between piles can be a minimum of 0.5m up to a maximum of 2m. Span may be increased by using bigger timbers or doubling up timbers. As an example, we would recommend a 6x4m garden house use 12 piles to provide a solid foundation, using 3 rows of 4 piles as per this diagram.
Calculate Your Requirements
Simply enter the dimensions of the structure you're planning, the soil type and the estimated load and our calculator will tell you what's required. Click the button to get started.
What Do I Require For Installation?
DIY screw piles can be installed by hand. They require an SR100 installation kit and 2x 1.5 m install bars.
If a higher load is required or there are many piles to install you may consider hiring machinery.
Drive units can be hired from UK helix and are attached to mini diggers. Electric install machines can be operated by one person.
What is The Maximum Load Per Pile?
The max. load per pile when installed "by hand" is around 700kg.(after safety factor of 2). You won't get this max load unless you hit the bedrock. Conservatively, you may achieve 250-500kg (depending on soil condition).
Using a mini digger is faster and increases the load to around 1- 2 tons per pile. This is an easier option if you have harder ground.
Can I Order a Sample To Test?
If you're unsure about which products to order or how installation will work, we recommend buying a sample unit consisting of:
• SR100 install kit
• 2 x 1.5 bar
• 1.2m pile
You can try this in your planned site to see how the pile performs. If you achieve a depth of 1m with relative ease and there is a large
amount of play in the pile, you should "size up" to 1.7m or consider 1m extensions.
If you achieve a depth of 1m and there is "significant effort to achieve the depth" with very little play, a 1.2m pile should suffice.
What Are Your Lead Times?
We typically have all DIY products stocked in our UK warehouse. Delivery is normally within 2-3 working days of payment.
Alternatively you can collect in person at:
UKHelix Co., Ltd.
Unit 1
5 Dale Road
Worthing
BN11 2RU
Any questions?
Email: hello@ukhelix.com
Call: 07557 343 981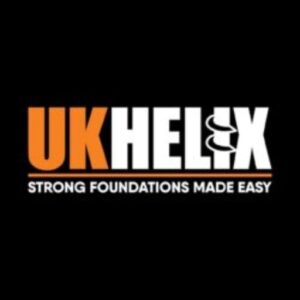 What Are The Shipping Costs?
Shipping costs will vary depending on your location and the number of products you choose to order. Please see two practical examples below of DIY orders and their respective costs for different UK destinations.
Pallet of 20x 1.2m DIY piles – single pallet space.
Sussex £30
London SW £55
Cornwall £65
Manchester £40
Edinburgh £65
North of Scotland £200
Swansea £65
Belfast £90
Pallet of 20 x 1.7 DIY piles – double pallet space.
Sussex £60
London SW £110
Cornwall £130
Manchester £80
Edinburgh £130
North of Scotland £400
Swansea £130
Belfast £180
Simply fill out the form on our contact page with the products you require and any other details and we'll get back to you to progress you order and answer any questions you might have about your project.